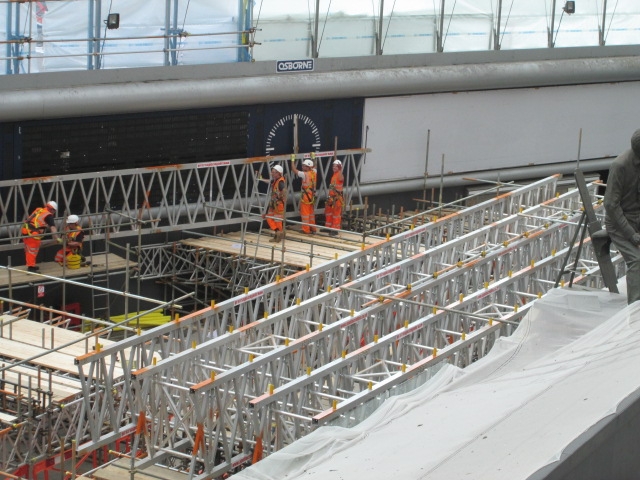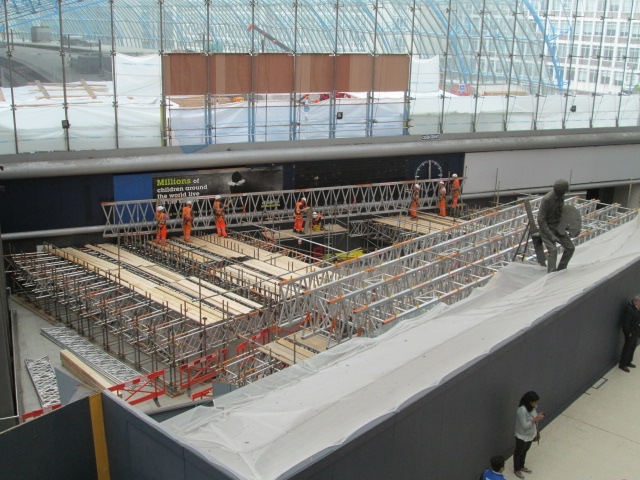 Waterloo Station -1.5m XX Aluminium Beam
During December 2013 OSBORNE were tasked with the challenge of re-opening two of the former Waterloo International Station platforms (21 and 22) for use by suburban trains, as an interim (temporary) measure, whilst a long term permanent solution could be designed and funded. At this time, there was no design in place and was merely […]
During December 2013 OSBORNE were tasked with the challenge of re-opening two of the former Waterloo International Station platforms (21 and 22) for use by suburban trains, as an interim (temporary) measure, whilst a long term permanent solution could be designed and funded.
At this time, there was no design in place and was merely an idea. The task faced was further challenged in that the existing infrastructure was not set up for suburban train use in any way and was more akin to that of an airport. There were no functional lighting/PA/CIS systems and the biggest problem above this was how to get the passengers onto the platforms from the main station concourse. Previously, passengers would enter the international terminal at a lower level and then only access the platforms via travellators when called to board the train.
In order to allow free flowing passenger movements for boarding/alighting of trains, a temporary bridge deck was needed that had to be 12 metres wide minimum to cope with peak flows. Access into the area was constrained in that it would not be feasible to deliver materials across the main station concourse at night without incurring a considerable cost, thus the only other access was from the former Cab road and through a small glass door opening. This meant, therefore, whatever construction method we chose for the bridge had to be such that it could be manhandled. The obvious option was to build the structure using tube and fit scaffolding.
Having approached supply partners and principle scaffolding contractor ALLTASK Ltd, work commenced on the early stages of design hand in hand with the main design consultants HYDER (now ARCADIS) ensuring full collaboration and integration of both partners right through to construction issue designs.
Due to the sheer size of the deck needed for the bridge, ALLTASK LTD adopted the use specialist pieces of scaffolding equipment procured from GEORGE ROBERTS (NW) LTD, these being the British manufactured and tested 1.5m XX Aluminium Scaffolding Beam
These innovative 1.5m XX Aluminium Scaffolding Beam not only ensured that the number of tube and fittings were reduced, they also could span greater distances whilst being able to accept higher design loads. The deck was rated to 7.5KN as opposed to the standard 5KN to allow for an evacuation of a crush loaded train.
The whole scheme, including scaffolding, was designed and completed and handed back to the client in less than 12 months. Use of the 1.5m XX Aluminium Scaffolding Beam supplied by GEORGE ROBERTS (NW) LTD contributed greatly to this time frame being adhered to, this simply would not have been possible if it wasn't for the real collaboration of all partners, ALLTASK LTD and suppliers GEORGE ROBERTS (NW) LTD were exemplary in this. Throughout the construction stages, despite the pace of the works, never did health and safety take a second place to production.
Equipment Used