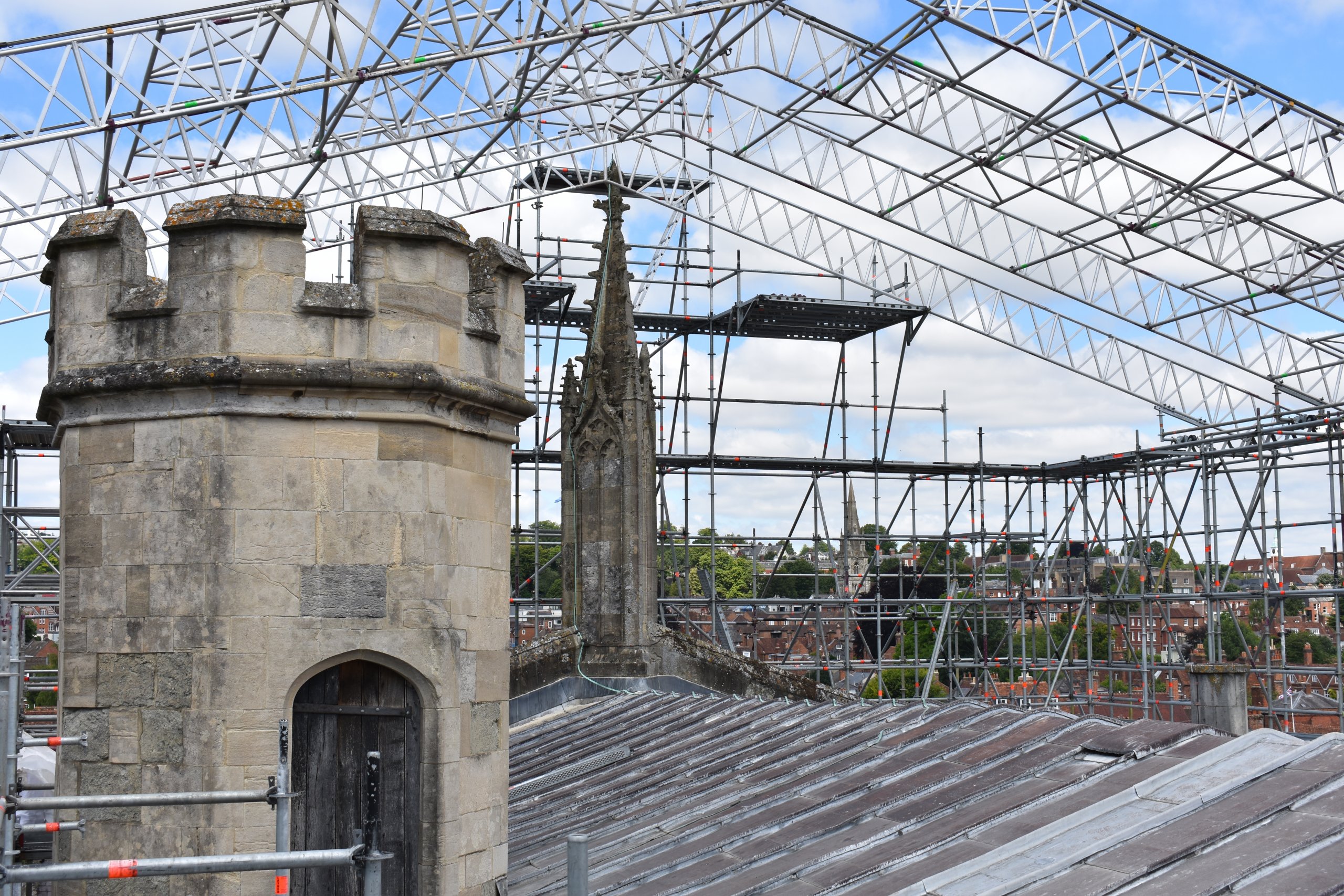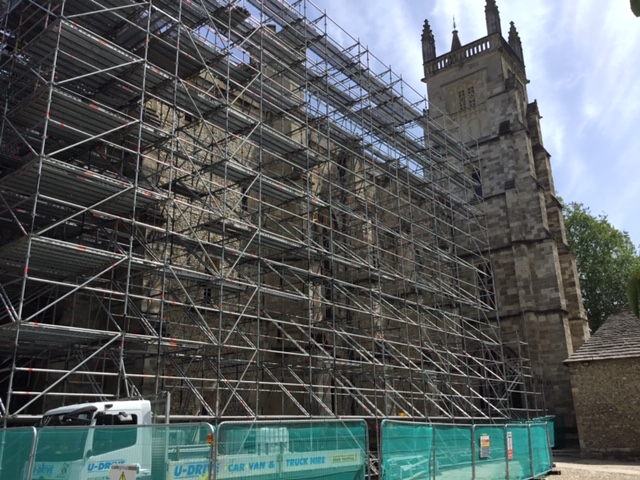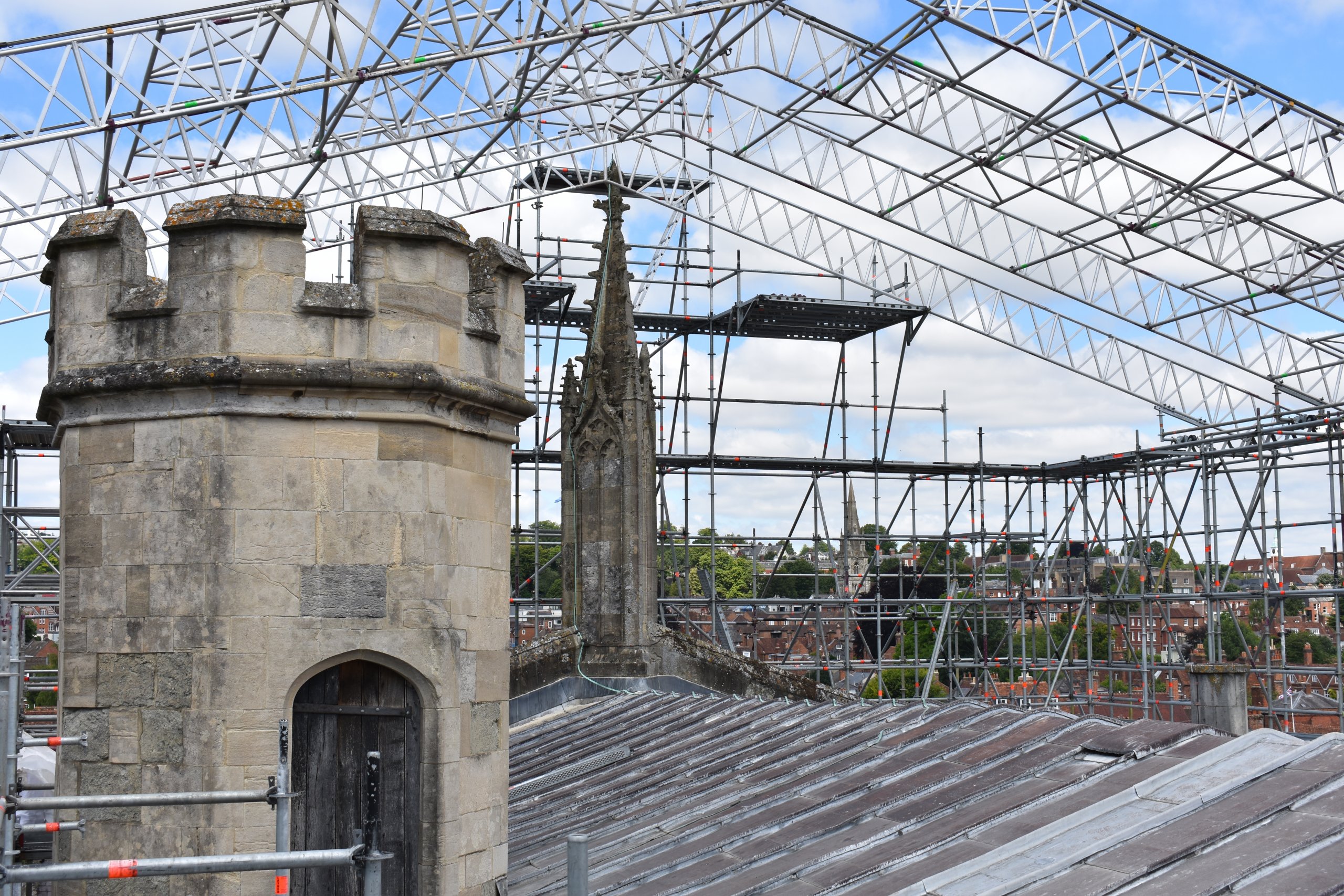 Winchester College Refurbishment Project
The Winchester College chapel refurbishment project required a temporary roof structure to allow safe access and protection from the elements during refurbishment work on the lead roof. The chapel is a Grade I listed building, used daily by students and staff, creating operational challenges which required careful and precise planning. As the college was fully […]
The Winchester College chapel refurbishment project required a temporary roof structure to allow safe access and protection from the elements during refurbishment work on the lead roof. The chapel is a Grade I listed building, used daily by students and staff, creating operational challenges which required careful and precise planning.
As the college was fully operational at all times during construction works, the safe passage of up to 700 students and staff was critical at all times. Various college activities were also taking place during this period, which included members of the public attending events.
Heras fencing was supplied and set up around the working area and a monitored site compound was formed to prevent unauthorised access. The Site Supervisor arranged break times to suit the key movements around the school and ensured that all works were suspended on the days the chapel was in use.
The Challenge
To erect a temporary roof system and a support scaffold to three sides of the Chapel without tie drilling into the Grade I listed building, also, to ensure there was no damage to the structure or stained glass windows.
The Solution
Prior to any works commencing on site, all parties undertook critical planning meetings to ensure safe strategies. These included;
✔ The production of a working scaffold design for the temporary roof structure & support scaffold to three sides of the building.
✔ Site visits prior to works with the working Foreman.
✔ Regular pre-start meetings with the client and our customer, which allowed for any concerns to be raised and rectified before we commenced works.
✔ The Scaffold structure required kentledge weight, comprised of 50 tonnes of sealed sandbags and 50 tonnes of water stored in IBC water tanks.  Permission to pump water from the River Itchen needed to be granted by the Local Authority in order to use water tanks as kentledge.
This project, with its unique challenges, required quick responses to demands on logistics and high levels of high-quality stocks in order to get the job done.  Project success was delivered within the client's programme, ensuring this beautiful and historic structure was well restored and preserved for generations to come.
Follow Us On LinkedIn
For information on our product, service range and prices, please contact a member of our experienced team.
Email: sales@scaffoldingsales.co.uk
Tel: + 44 (0) 151 524 2434